User interface web design and development services
Brain Bytes creates captivating and eye-catching platforms for your business to increase engagement and ignite exceptional interactions.
What is user interface design?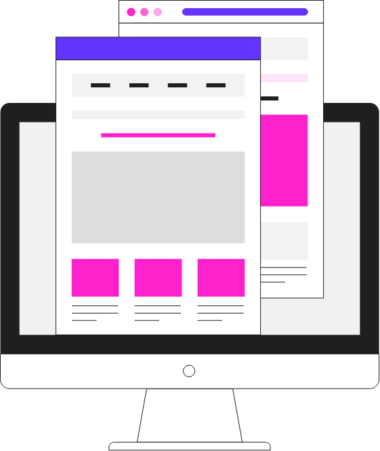 User Interface (UI) design focuses on the style and usability of software and computer interfaces like webpages. The best UI design offers both a create a visually appealing platform optimized for intuitive user experiences. Whether it is a mobile app, website, or software program, excellent UI satisfies users and keeps them coming back for more.
Unlike UX design which is used to consider back end optimization and data-driven metrics, UI design is concerned with the front end. Put simply: UI is the make-it-pretty-part of design.
Take a look around our webpage. Notice the blend of colors? The simple navigation between pages? The intuitive navigation? The bright, candy-like buttons? All that's some top-notch UI at work.
You may not realize it, but all your favorite websites and apps have user interfaces that make you want to visit them again and again. Fact is, we know how to improve your website or app with user navigation, search engine friendly layouts, and a focus on making your platforms meet your business' goals. Sah-weet!
The more people enjoy your user interface, the more they will interact with your brand. It's just that simple.
Our UI design and development services
We're obsessed with usability. Brain Bytes specializes in comprehensive UI design and development services, so even with the wildest ideas, we can make them a reality. If you have out-there imagination and want to try experimenting with your new platform, we are always down for an adventure.
We guide our UI projects with research and our bonafides. By the time we publish your platform, we know your visitors will love your improved easy-to-use websites and apps. And If there is something your customers don't like, we can pivot on a dime.
Sometimes, obsession ain't so bad.
Visual design and branding
Each aspect of a platform should translate into positive brand interactions. We make sure to integrate consistent elements such as color and typography to embed the heart of your brand in each design.
Your website should be your biggest brand ambassador. Learn how we approach our design projects to make sure your brand is at the forefront of each click, scroll, and view on your site.
Before we launch any final UI designs, we implement prototypes to test how users interact with potential interfaces. We monitor how users explore prototype platforms and brainstorm areas that need improvement. From missing sections in a contact form or inconsistent navigation, we engineer a final product around serving your audience.
Compelling visuals and ample graphic designs are a crucial element of fun and useful interface. By evaluating user research and brand elements, we ensure that designs integrate stunning visual components to amplify user experiences. We consider style guides and how layouts look on different platforms as we design the interface.
Design review and validation
We put designs through their paces with reviews and tests to ensure consistent and satisfying site engagement across platforms. We evaluate software and backend components to confirm the proper implementation of design specifications.
Because the cost of fixing defective interfaces or fixing defects after launch is expensive, we perform extensive user acceptance testing and verify the interface satisfies the target audience. We evaluate all possible weaknesses and fix them before releasing your stunning new design.
Our approach to user interface design
Brain Bytes develops apps like we develop client relationships. We believe that great UI is — at its heart — great communication. We don't just create super usable products, we also communicate with our clients to discover the best solution for each project.
It takes a little more time, but we don't really believe in rubber stamping projects or steamrolling clients. That's not how we roll.
Evaluating which design blueprint caters most to users helps us scale a final product. We integrate references (ours and yours!) to guide the spirit of our designs to guarantee users — and you — enjoy the final product.
From beginners to tech-savvy whizzes, your interface should provide a positive brand experience that's intuitive and easy-to-use.
Interactive animations promote compelling interactions on your interface and result in longer visits and more interest in your brand.
Our design team creates customizable UI elements with kits. That means we have the know-how to follow strict UI guidelines to create consistent experiences across your product platforms. UI guidelines help us ensure design guidelines follow best practices, streamline internal operation processes, and create standards for future project developments.
Our designers evaluate the final interface to ensure it is visually stunning, easy-to-use and engineered for user needs. We make certain your final product is ready to turn first-time visitors into loyal customers.
Our designs take equal inspiration from data and artistic vision.
See how we nailed a total refresh for a national food brand's website.
Have a UI design project? Let us take a look.
If you have a new design project or want to bounce around some ideas, let's brainstorm. We can help you clarify your vision and get the gears in motion to create your next digital platform.
"I'm looking for something else… Can I just email you?"